Ancaster Court Surfaces continues the fine tradition of excellence that originally started in 1947 with Ancaster Paving.

Our longevity and dedication in this field in Canada is unmatched. Through the years, we have seen and been part of many changes and advancements in the industry. We continue to adjust and improve our services, to provide state of the art surface installations utilizing leading industry standards and products. An approved contractor of the Ontario Tennis Association and Tennis Canada, our courts also comply with ITF standards. Whether you're starting from scratch or restoring and existing facility, we can help.

Ancaster Court Surfaces is proud to partner with the world leaders of tennis court surfacing systems. With the assistance of California Sports Surfaces ( surface choice of the US and Austrailian Open), Douglas Equipment, Sealmaster and Armor Crack Repair we can provide our customers with a large range of products to customize each individual court.

Our company's goal is to provide the customer with the best products available, followed with superior customer service. For courts, this means being available to customers long after the job has been completed. Ask our customers, and they will tell you if a problem or question arose, we were there to discuss any concerns they might have had. A large majority of quote requests are from long time customers that appreciate the on-going relationship they have with us.

We will always continue to adjust and improve our services, to provide state of the art surface installations utilizing leading industry standards and products. An approved contractor of the Ontario Tennis Association and Tennis Canada, our courts also comply with ITF standards. Whether you're starting from scratch or restoring and existing facility, we can help.

Ancaster Court Surfaces is available for consultation to custom design and build a variety of courts. Whether it's strictly tennis or multi-purpose, we offer free consultation and can provide quality products to produce outstanding results. Using the latest in laser grading equipment, we can achieve industry standards in our surfaces. Sport surfaces are different than your average parking lot - they require tight specifications, therfore it is crucial for potential court owners to hire a contractor with experience in this field. With over 60 years of experience, call us today.


"Since 2004 we've entrusted the care of our 15 tennis courts to Ancaster Court Surfaces. From crack repair to complete reconstruction and everything in between, they make sure our courts are in excellent shape for our members. We couldn't be happier with the finished product. And throughout the process, Ancaster is always professional, responsive and attentive to the smallest detail. Their expertise ensures our 1,300 members have exceptional tennis facilities to enjoy every summer. We can't thank the Ancaster team enough for their hard work and dedication."
Kathy Festeryga
Board Chair and Director of Marketing, Southampton Tennis Club
Are your court colours fading or peeling? Has the surface become too slick? Are the standing puddles after a rainfall? Has the surface begun to crack? Are the old net posts leaning? If the answer is yes to any of these problems, give us a call. We would be happy to arrange a free consultation and provide an estimate to resurface your existing court.

Pressure Washing
Over time, your courts can become dirty and stained. In some cases, only a pressure washing is required to make the courts look like new. Ancaster Court Surfaces specializes in this work using specific pressure and technique. Your tennis or basketball court can be easily damaged if special care is not taken.

Crack Repair
Ancaster is a proud to be Ontario's certified installer of the Armor® Crack Repair System. Effective in sub-zero temperatures, the Armor® system utilizes a thin, expandable membrane that seals asphalt cracks and prevents them from reappearing. In fact, the Armor® system is so efficient and effective that it has been installed at the site of the U.S. Open and has been used in 2,500 tennis courts worldwide over the past 10 years. Please visit www.armorcrackrepair.com for more information.

Puddles
Using an acrylic patching compound, we can patch any areas that are ponding, which can cause hazardous and inconvenient play after the rest of the courts have dried.

Net Post Replacement
Many net posts are installed using an improperly sized and constructed footing base, causing leaning, heaved, sunken, rusted and broken posts. We install net posts using "bell" shaped footings, with net post sleeves set in wet concrete. This guarantees years of service without the worry of leaning or heaved posts. Sleeved net posts allow for easy removal for other activities or replacement if a post gets damaged. We use only high quality posts that last, with solid brass internal winds and removable handles to insure years of trouble-free operation.

Line Painting
You name the sport and we can paint the lines. We can create a design and colour scheme to facilitate any multi-sport pad.


One of the most important decisions in planning a tennis court is choosing a surface. Ancaster Court Surfaces has specialized in asphalt tennis courts since day one. The majority of courts in North America are built with asphalt for many reasons : minimal maintenance through the year, playable earlier and longer in our Canadian season, play quicker after rainfall, attractive looking and good value for the cost.

There are two main options when choosing a surface:

Plexipave's standard 4 coat system
Plexicushion
The standard 4 coat Plexipave system is formulated to meet the requirements of players at any level. Considered by many to be the best combination of consistency-of-play, pace and footing, this system is ITF Category 3 rated ( medium pace). Plexipave Standard is the traditional and most widely used tennis court surface system.

The Plexicushion System combines the consistent bounce, sure footing, and outstanding durability of Plexipave with the innovative shock-absorbing properties of EPDM Rubber cushioning. The result is a sure-footed surface that dynamically responds to body impact and reduces fatigue on player's legs ankles and feet. The multi-layered resiliency lengthens the orthopedic life of players of all ages, from juniors who are just starting to play competitively, to seniors who are enjoying the game in their golden years. . The 3 levels of Plexicushion allow players to select a tennis court surface based on desired comfort level and available budget.

Summary: Plexipave System products are manufactured under a rigorous quality control program. When installed by an Authorized Applicator, the owner and players can be assured on duplicating play conditions on the site or replicate those used elsewhere. All Plexipave Systems are classified by the world governing body of tennis -the International Tennis Federation. Plexipave Systems are used for courts surfaces at NCAA Championships, National Federation Competitions, WTA Tour events, ATP Tour events and the Australian Open. Whether a multi-court tournament facility or a residential court, Plexipave is the industry-recognized tennis court surface leader.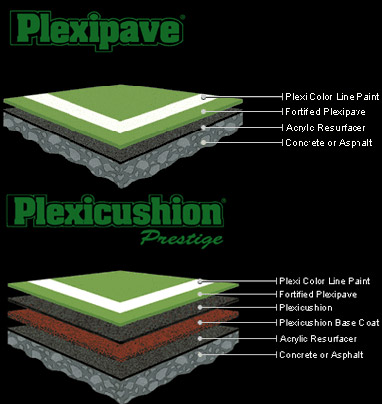 The Plexipave Color Finish System is an all-weather, durable, quick drying color surfacer that provides superior resistance to deterioration from ultra-violet rays. Plexipave is a 100% acrylic latex, color intense sports surface formulated for use over asphalt and concrete. The high performance finish coat is ideal for tennis courts, basketball courts, play areas, multi-purpose sport surfaces, light traffic pathways and walks and field houses. The Plexipave Color Finish System is available in 8 popular standard colors, 4 blues and 1 Pro Purple. Custom colors are available to meet individual needs. Plexipave has been the choice of tournament installations around the world.
You can rely on Ancaster Court Surfaces for all of your equipment needs.

Tennis and Pickleball From net posts to ball machines to windscreens, we can provide you top quality products for a competitive price for anything you might need to complete your tennis or pickleball facility.

Basketball Whether you're looking for an adjustable net for the kids or a fixed gooseneck system for a school or park, Ancaster Court Surfaces can supply and install any basketball system you desire. We can provide a variety of models to satisfy any budget.

Multi-Purpose You name the sport and we can provide the necessary equipment. Call us to learn more about our adjustable net system which offers the versatility to easily adjust from ground level to 8' allowing play for multiple sports.