Ancaster Court Surfaces is quality at its best when it comes to the installation of running tracks anywhere in Canada. Ancaster Track and Tennis installed their first track in 1961 and has built more than any other company in Canada.

Our installations range in size from major facilities designed for international competitions with international certification to indoor jogging tracks.

We have designed and implemented custom installation equipment honed to ensure maximum coverage and installation integrity. Our tracks are a multiple lift rubberized coating system which minimizes musculoskeletal stress and fatigue and increases the longevity of your track.


Environmentally Preferable Running Tracks
Plexitrac's unique structural mix of select water-based resins provide a durable, cohesive, non-toxic and environmentally friendly track surface which meet the rigorous athletic standards set by the International Amateur Athletic Federation (IAAF).

Plexipave Sport Surfacing Systems use recycled and post-industrial components in each of the formulations. This manufacturing choice minimizes the exploitation of petroleum and wood resources.

All of the Plexitrac running track products can facilitate valuable credits under the U.S. Green Building Council (USGBC) LEED rating system

Heavy metals such as lead and mercury, have been a component of many track systems. Today, schools are making the switch to running tracks that are free of heavy metal hazards. The Poly-Resin technology employed by Plexitrac systems has no need for heavy metal components. Tests indicate the safety of Plexitrac products that they are free of any mercury or lead hazard.
Ancaster Court Surfaces is able to provide to our customers the complete package regarding running track projects, no need to worry about additional trades or jockeying scheduling, we take care of it for you. We can provide to you services for earthmoving, drainage systems, irrigation layout and install. As well as sub-base and base courses and then the application of resilient surfacing. We provide services for the calculation, layout and painting of all athletic markings and installation of specialized track and field event hardware, including aluminum curbing.

We have completed running tracks in Nova Scotia, Saskatchewan, Alberta, Manitoba, Quebec and Bahamas with the bulk of our work executed in Ontario. The torch of excellence has been passed down from Ancaster Track & Tennis to Ancaster Court Surfaces and we are honoured to be carrying on the tradition of going for gold.
Because of our extensive experience in track and field facility construction, we have been contracted to repair and resurface many existing facilities. Most of these repairs have been on original rubberized asphalt or latex systems. A list of repair and resurfacing completions can be viewed in our "Completed Project Section".

We offer the following services to upgrade existing running tracks:
Repair and resurfacing of existing rubberized asphalt tracks
Conversion of 440 yard track to 400 metres
Paving and surfacing of existing granular tracks
Construction of additional field event areas
Calculation, layout and painting lane lines and event markings
Installation of aluminum curbing
Installation of traffic control gates
Generally, there are two options available when selecting a track material.

These options are:
Polyurethane based systems
Latex based systems
Details regarding each of these systems follow:
PLEXITRAC OVERVIEW
Plexitrac is an advanced track system designed to provide the optimal combination of safety and force reduction. These are constructed to minimize fatigue and stress, reducing the probability of injuries, while delivering outstanding results. Plexitrac is the smart choice for retexturing, rejuvenating and enhancing existing asphalt, SBR/EPDM latex, urethane, and rubber-asphalt running tracks while offering significant cost savings compared to the majority of polyurethane or vulcanized-rubber systems.

With proven performance in all climate conditions, Plexitrac protects against fade and degradation from the heat and sun and performs in temperatures from 40° - 120°F (47° - 49°C).

Proprietary polyresin binders strike the perfect balance between the dynamic response needed for championship competition and cushioning. Comprised of a unique structural mix of select water-based resins, Plexitrac provides a durable, cohesive, high performance and budget friendly track surface.

Plexitrac systems could be eligible for valuable credits under the U.S. Green Building Council (USGBC) LEED rating system. Also, they meet or exceed the International Association of Athletic Federations (IAAF) requirements for force reduction, modified vertical deformation and slip resistance.
Latex Systems
Instead of using expensive polyurethane materials, a latex system employs the more cost-efficient latex binder with rubber granules.
Recent polyresin technology advancement incorporate environmentally safe water based resins which meet the rigorous athletic standards set by the International Amateur Athletic Federation
Latex track systems are quickly becoming a popular alternative to polyurethane systems
Surface finishes are available in a wide range of colours
Layout and Line Painting
We provide all layout and line painting services and offer official certification if required.
St. Michael's College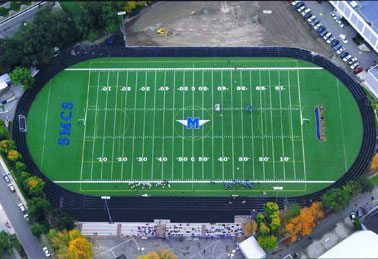 Esther Shiner Stadium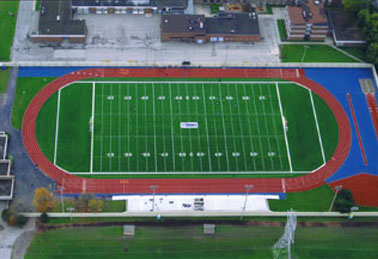 Birchmount Stadium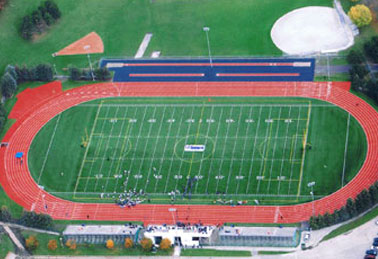 Upper Canada College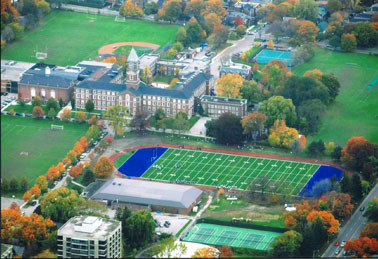 Racing Track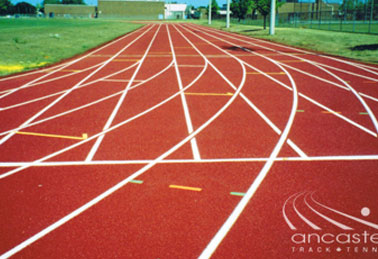 Southern Ontario
Nelson Running Track, Halton, 2017
Milton District High School, Halton, 2017
Tecumseh Vista Academy, Windsor, 2012
St. Thomas Aquinas, Oakville, 2012
West oak Trails/Garth Webb High School, Oakville, 2012
Ursuline Secondary School, Chatham, 2010
St. Anne High School, Windsor, 2007
St. Joseph's High School, Windsor, 2006
F. J. Brennan High School, Windsor, 2003
La Salle Catholic S,S., Windsor, 2003
Chatham-Kent High School, 2001
Hamilton
Bishop Tonnos Secondary School, Ancaster, 2005
Holy Trinity Catholic S.S., Simcoe, 2002
Cardinal Newman, Hamilton, 2000
Saltfleet High School, Hamilton, 1996
Todd Eaton Memorial Track, Port Dover, 1996
Lions Club Park, Brantford, 1995
Cathedral High School, Hamilton, 1995
St. Mary's High School, Hamilton, 1994
St. Thomas More High School, Hamilton, 1991
Cayuga High School, 1991
Kitchener/Waterloo
Jacob Hespeler Secondary School, Cambridge, 2012
Resurrection Secondary School, Waterloo, 2005
St. Benedict Secondary School, Cambridge, 2010
St. David's Catholic School, Waterloo, 2009
Centennial Stadium, Kitchener, 2007
St. Benedicts - Cambridge, 1997
Monsignor Doyle High School, Cambridge, 1996
St. James High School, Guelph, 1996
Lady of Lourdes High School, Guelph, 1995
Niagara Area
Oakes Park, Niagara Falls, 2009
Lakeshore Catholic School, Port Colbourne, 2007
West Park, St. Catharines, 2001
Ridgeway & Crystal Beach High School, 1990
London Area
Parkside Collegiate, St. Thomas, 2011
College Avenue Secondary, Woodstock, 2009
London South Secondary School, London, 2007
Combined Public & Catholic S.S., Strathroy, 2002
St. Joseph's High School, St. Thomas, 1995
Toronto
Upper Canada College, Toronto, 2007
Birchmount Stadium, Toronto, 2006
Esther Shiner Stadium, Toronto, 2005
Nike Running Track, Toronto, 2005
St. Michael's College School, Toronto, 2002
Etobicoke Centennial Stadium, Toronto, 2002
Pickering College, Newmarket, 2001
Country Day School, King City, 1999
Petrolia Secondary School, 1991
North
Trenton Secondary School, Trenton, 2012
Canadian Forces Base, North Bay, 2008
Russell High School, 2008
Beverly Morgan Park, Pickering, 2007
New Liskeard High School, New Liskeard, 2006
Clarington Central Secondary School, Bowmanville, 2005
St. Mary Secondary School, Pickering, 2005
Monsignor Paul Dwyer Catholic S.S., Oshawa, 2002
Father Leo J. Austin Catholic S.S., Whitby, 2002
North Bay Secondary School, 2001
St. Theresa's High School, Midland, 1994
Parry Sound High School, 1991